Sihanoukville is home to tons of bars, hotels, restaurants, cafes, and food stalls offering a wide range of cuisines, snacks, delights, soups, drinks and fresh juices of your choice. Whether you are in a mode to refresh yourself with fresh seafood BBQ or you want to entertain your tummy with fancy Italian cuisine, Sihanoukville restaurants can cater to your needs anytime of the day or night.
Instead of going to a restaurant in Sihanoukville that serves only international cuisines that you have been eating back home, you are better off trying the local Khmer cuisine, which is all about contrasts. You will definitely fall in love with these fresh and cooked, sweet and bitter, salty and sour dishes offered at various traditional Sihanoukville restaurants scattered all over the city and around the sandy beaches.
Here is a list of some of the traditional Khmer cuisines that you need to try while you are in Sihanoukville, Cambodia.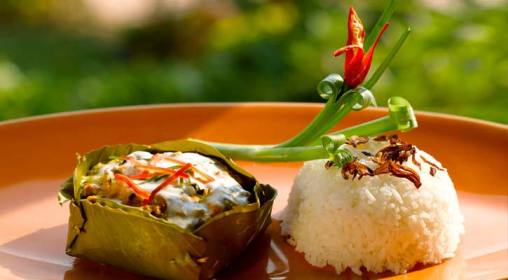 Fish Amok is the most popular and most eaten dish in Sihanoukville and rest of Cambodia. Although you may be able to find similar versions of this dish in the neighboring countries, it is the addition of slok ngor – a local herb that gives Fish Amok a distinct bitter flavor and separates it from the rest of the versions. What goes in the making of this flavorsome dish is fish mousse, coconut milk and curry paste called the kroeung. It is this curry paste that holds all the secret ingredients of this traditional cuisine. It is made from shallots, lemongrass, finger root, Chinese ginger, garlic, and turmeric root.
In most of the upscale Sihanoukville restaurants, this dish is steamed in a banana leaf and served hot, which gives it an organic look and brings water to the mouth. Like any other traditional Khmer dish, Fish Amok is best served with a plate of hot rice.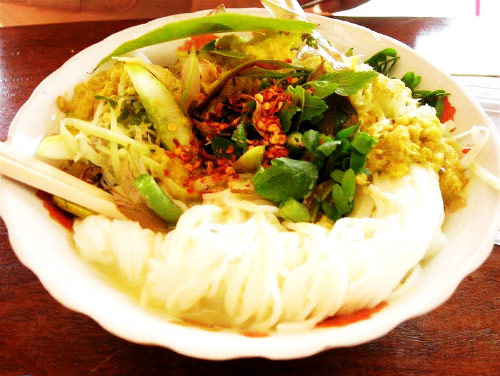 The locals do not start their day without eating Nom Banh Chok – the most beloved dish in Cambodia. Many foreign tourists refer to it as Khmer Noodle and it is usually served in the breakfast. Although there are no special ingredients that go into the making of this dish, it sure can ignite your taste buds within seconds. The main ingredients are rice noodles, green fish gravy, and plenty of vegetables like mint leave, cucumbers, bean sprouts, banana flower, and green beans. The green fish gravy is made from turmeric roots, lemongrass, and kaffir lime. You do not have to go to those expensive Sihanoukville restaurants to have a taste of this popular Khmer cuisine as there are plenty of women found walking on the beaches selling this local cuisine for a much less price but not any lesser taste.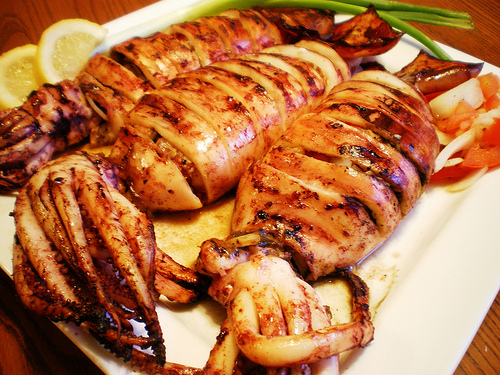 Finding seafood sellers who carry a small charcoal-burning oven on their shoulder, cooking and selling those grilled squids called Ang Dtray-Meuk is a common sight in Sihanoukville and other seaside towns in Cambodia.  If you love seafood, you must try this local Khmer dish
If you planned to travel to Sihanoukville Cambodia please visit www.sihanoukiville.com to see more what to do and where to go in Sihanoukville Cambodia.